Academics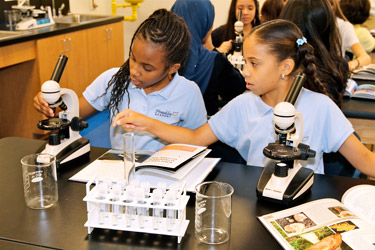 The foundation and core of Franklin Academy's academic approach is inspired by the educational insights of one of our founding fathers, Benjamin Franklin. Franklin Academy's educational philosophy is derived from one of Benjamin Franklins' famous quotes "Tell me and I forget, Teach me and I remember, Involve me and I learn." Franklin Academy's educational approach is empowered from the ideology of student learning centers. Students work collaboratively within their centers with their peers, as instructors are able to facilitate the differentiated learning that is taking place.
Franklin Academy has created a challenging curriculum and has set our expectations for every student at a high level. Implementation of learning centers allows instructors to build strategies to ensure that each and every individual student has their individualized tools to ensure they are capable and ready to reach these high standards. At Franklin Academy we hold students at a high standard of excellence in both curriculum and classroom expectations.
Franklin Academy's educational goals are set to not only achieve short term success, but promote and ensure all students have the skills necessary to achieve long term success. Franklin Academy aims to create a learning atmosphere where differentiated instruction implements strategies that will support student success within the classroom as well as constantly enhancing student skills that are essential for success beyond the classroom walls, ensuring students are college and career ready.
Franklin Academy's highly qualified teachers and administrators actively collaborate to deliver rigorous instruction focused on enhancing critical thinking skills. Research has shown that the quality of instruction is the most significant factor in a child's learning. At Franklin Academy, our educational philosophy and mission are reflected in how teachers deliver instruction. A rigorous, comprehensive, researched-based curriculum aligned to Florida's academic standards will be delivered to students in a variety of engaging ways.
Franklin Academy's academic content is aligned to Florida's B.E.S.T. Standards for English Language Arts and Mathematics and the Next Generation Sunshine State Standards (NGSSS) for Science and Social Studies, which reflect the Florida Department of Education's foundational expectations of what all students should know and be able to do in each grade from Kindergarten through 12th grade.
We are particularly focused on the role literacy plays in ensuring students become compassionate, confident, competent and creative citizens in an increasingly complex world. Franklin Academy's teachers and administrators use various data analysis techniques and work collaboratively to develop individualized curriculum maps and lesson plans to ensure that each benchmark is covered in a comprehensive and equitable fashion. As Franklin Academy analyzes performance data throughout the year, we strive to implement classroom practices and effective teaching and learning strategies that are supported by research.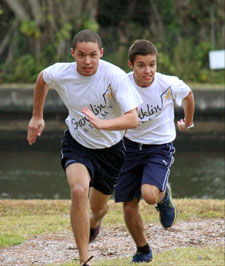 Core Academic Areas
Math

Reading/
Language Arts

Science

Social
Studies

Grade Level

Concepts

Concepts

Concepts

Concepts

K - 2nd

Numbers and Operations
Measurement and Data: Classification of Objects
Calendar Time
Units of Measurement
Weight and Capacity
Time and Money
Geometry
Patterning
Counting, Operations, and Algebraic Thinking

Concepts of Print
Phonological Awareness
Phonics/Word Analysis
Vocabulary Development
Fluency
Reading Comprehension
Fiction/Nonfiction
Writing Process

Practice of Science
Changes in Matter
Forms of Energy
Forces and Change in Motion
Earth Structures
Living Organisms

Citizenship
Friends and Family
Native Americans
Early US History
Holidays
Celebrations
Map Skills
Community Helpers
American Government

3rd - 5th

Numbers and Operations: Place Value
Geometry: Area, Volume, Surface Area
Operations and Algebraic Thinking
Measurement and Data
Decimals
Fractions

Phonics/Word Analysis
Fluency Development
Vocabulary Development
Reading Comprehension
Fiction/Nonfiction
Research Process
Writing Process: Prewriting, Drafting, Revising, Editing, and Publishing

Practice of Science
Characteristics of Scientific Knowledge
Living Organisms
Interdependence
Matter
Energy: Transfer and Transformations
Forces and Changes in Motion
Motion of Objects

Community
Native Americans
Government
Florida
Exploration
Revolution
Constitution
Civil War

6th - 8th

Statistics and Probability
Ratios and Proportional Relationships
Expressions and Equations
The Number System
Algebra
Geometry

Reading Comprehension
Fiction/Nonfiction
Writing Process: Prewriting, Drafting, Revising, Editing, and Publishing
Creative, Informative, and Persuasive Writing
Research Process

Scientific Method and Investigation
Role of Theories, Laws, Hypothesis, and Models
Matter
Earth and Space: Weather and Climate/Space and Time/ Structures
Diversity and Evolution of Living Things

Middle Ages
Medieval Times
Middle East
Reconstruction
Industrialization
Great Depression
High School Curriculum
Franklin Academy offers a comprehensive educational high school program that includes building upon a solid content base in each academic subject, including the IB Diploma Programme for those students who qualify.
Students will expand their prior knowledge through a spiraled curriculum, which focuses on inquiry and project-based applications of key concepts and universal ideas. Franklin Academy's Curriculum Guide will be grade-level specific and sub-divided into the core content areas of Language Arts (including Writing), Mathematics, Science, Social Studies, World Languages, Physical Education, Fine Arts, and Practical Art
English/Language Arts

English Skills (Intensive Reading)

English Honors I, II, III, IV

AP English Lit

Applied Communications 1

World Literature

World Literature Honors

Contemporary Literature Honors

AP English Lang

Classical Literature

Applied Communications 2

American Literature

American Literature Honors

Great Books Honors

Contemporary Literature

Math

AP Calculus

Advanced Topics in Math

Algebra I

Algebra II

Geometry I

Geometry/Pre-calculus

Calculus Honors

Calculus II

Probability & Statistics Honors

Algebra I Honors

Algebra II Honors

College Algebra Trig

Geometry I Honors

Honors Pre-calculus

Math for College Readiness

Science

Biology I

AP Biology

Chemistry I Honors

AP Chemistry

Physics I

Physics I Honors

Marine Science Honors I

Biology Technology

Bio I Honors

Chemistry

Anatomy/Physiology

Anatomy/Physiology Honors

Environmental Science

AP Environmental Science

Marine Science Honors II

Social Studies

American History

American History Honors

AP American History

Psychology

Government

Economics

Economics Honors

AP Macro Economics

World History

World History Honors

AP World History

Government Honors

AP Government

Economics with Financial Literacy

Economics with Financial Literacy Honors

World Languages

Spanish

AP Spanish Language

AP Spanish Literature

French I, II, III

AP French Language

Latin I, II

Electives

Computer Applications

Microcomputers

Journalism

Accounting

TV Production/Cinema

Business Management

V Basic

Business & Finance

Visual and Performing Arts,

Speech & Debate,

Practical Arts

Art I, II

Computer Art

AP Art

Intro Drama I, II

Music Appreciation

Dance I, II

Band I, II

Speech

Debate

Physical Education

Physical Fitness

Health

Beginning Weight Training

Life Fitness
*Not all courses will be taught every semester. Courses will be offered based on interest and availability
Enrichment Program
At Franklin Academy the curriculum includes chess, health, physical education, visual arts, music, foreign language and technology: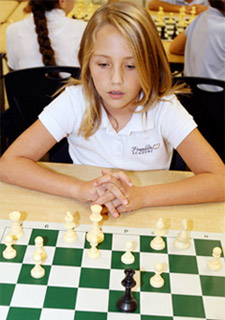 As an optional enrichment program, chess allows students to develop a broad array of critical reasoning and problem solving skills. Chess provides a creative environment for students to practice analytical and logic puzzles using strategy, geometric spatial relationships, combined resource utilization and time management all in a game the students enjoy. Our program accommodates all levels of students from the first-time beginner to the seasoned tournament player. Students can continue to develop as players by joining the after school chess club or participating on the school tournament chess team.
Health topics are closely related to science and will include concepts such as basic hygiene, nutrition, benefits of exercise, safety and first aid.
Physical education is the application of individual skills in a team sport environment. The curriculum includes a variety of developmental activities emphasizing fine and gross motor skills as well as to help our students keep fit through organized activities and lessons that focus on, control and coordination of movement, agility, balance fitness, respect for rules and sportsmanship.
The visual arts curriculum generates enthusiasm for art as well as different cultural and historical connections. Through the exploration of a variety of artists, art processes and art experiences, students have the opportunity to develop higher thinking and creative problem solving skills. By infusing art into the curriculum, we enhance the opportunities for academic success for all students and help to develop right-brain associated functions to improve functioning in the workplace and beyond.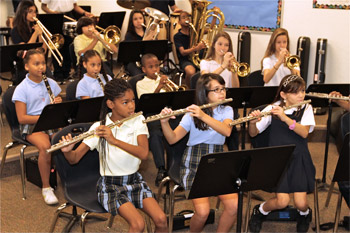 Music instills the love of melody, poetry and rhythm. From classic to contemporary sounds all students enjoy music. Students learn expressive qualities, tone, melody and style of songs. Our students play instruments and understand the role of musicians in various music settings and cultures. History and cultural awareness is integrated into our music curriculum.
We believe learning should primarily occur in a relational context; technology will be used as a tool in the school to enhance our efforts in teaching your children. We believe technology is best used to reinforce classroom learning and for assessment. Students will be taught to master specific technologies. In higher grade levels, teachers will seek to ensure that students are taught to exploit the potential of research oriented technology yet not abuse them to avoid developing solid research, critical thinking, and writing skills. Participation in project –based, multidisciplinary learning with technology will be encouraged.
Curriculum Enhancements
Differentiated instruction
Integration of technology:
Interative projectora and whiteboards
Visiting other countries via the web
Computers in classrooms as well as computer labs
Mobile technology carts
Building Better Readers – Buddy program, interaction between student
In-house field trips: High Tech –High Touch
Off-site:
Broward Center for the Performing Arts
Miami Seaquarium
Museum of Science and Discovery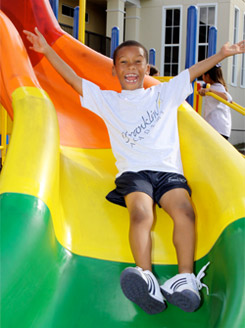 Character Education is an integral part of the curriculum. Character is the culmination of habits, resulting from the ethical choices, behaviors, and attitudes an individual makes, and is the "moral excellence" an individual exhibits when no one is watching. It includes an individual's desire to do one's best, concern for others' well-being, cognition of critical thinking and moral reasoning, and the development of interpersonal and emotional skills that allow individuals the capability to work effectively with each other in everyday situations. At Franklin Academy we embrace the philosophy that character education builds better people. Character development is more than developing good behavior—but rather identifying and cultivating a set of inter- and intrapersonal skills that provide the framework to build and execute ethical behavior and build community.
Parent involvement provides parents with the opportunity to have an active role in the Franklin Academy community. Working closely with school administration and faculty, and guided by the school mission, participation in your child's education enriches the academic and social needs of the school while acting as a major vehicle of communication with your child.